OLDaily
by Stephen Downes
September 4, 2010
Jacques Cartier Provincial Park


I'm just home from three weeks camping at Jacques Cartier Provincial Park, near the northern end of Prince Edward Island. Some beautiful photos, and next week I'll share more from my bicycle trips on the Island.
Stephen Downes, Flickr, September 4, 2010 [Link] [Comment] [Tweet]
Chronicle's Innovations Column: Obama is a Socialist
Interesting. Michael Caulfield: "I think we know the Chronicle is crap, but I think most people have very little idea how much of that is because of external money which supports the junk research that keeps the Chronicle running. And I think people are still failing to make distinctions, good people with good aims quoting the Vedders of the world because they believe that his talk about an "open-source university" is roughly parallel to say what Brian Lamb or Downes means by that." Which raises the possibility that last week's article in the Chronicle was intended as a lead-in to this hatchet-job accusing Obama of being socialist and promoting some sort of for-profit "openness". Well, as an actual socialist, I can say, Obama is no socialist, though it would be better if he were. "The media narrative pretty much determines what is in the realm of social possibility." Which is why I write this newsletter and why I post items like this questioning that narrative. Michael Caulfield, Tran|Script, September 4, 2010 [Link] [Comment] [Tweet]
EVOKE Reflections: Results from the World Bank's on-line educational game
Two part (Part 1, Part 2) summative assessment of Evoke, the World Bank-sponsored game-based online learning project. The numbers are pretty impressive:
Pyramid of Participation

| | | | | | |
| --- | --- | --- | --- | --- | --- |
| | Est. | % | Actual | % | Diff. |
| Visitors | 87,500 | | 177,673 | | 103% |
| Registered | 6,875 | 8% | 19,324 | 11% | 181% |
| Active | 700 | 10% | 4,693 | 24% | 570% |
| Certified | 70 | 10% | 223 | 5% | 219% |
| EVOKATION | 7 | 10% | 74 | 33% | 957% |
It kind of makes our 2200 subscriber MOOC seem pretty small. That's what having an organization like the World Bank behind you can do. Interestingly, the participation rate is almost exactly in line with what we saw in our connectivist courses. This suggests that the model of an open course - whether it's a game or a discussion - results in the same pattern of participation. The question of 'what was learned' is perhaps also more concretely answered in Evoke, as successful participants submitted final projects - called Evokations - and some received funding. The main take-home for me? The obvious - don't be lulled into thinking that the Connectivist courses are the only game in town; other models can have widespread impacts. Robert Hawkins, EduTech , September 4, 2010 [Link] [Comment] [Tweet]
Xplana.com: Is This a PLE?
Michael Feldstein looks at Xpana.com, a service well worth exploting. While he questions whether it's a PLE, I would characterize it more as a social leaving network. It's not a PLE because there's no sense of ownership – you log on to the Xplana site and work within Xplana's environment. Why is that important? This is why. That said, Xplana certainly offers a lot worth looking at. It draws from some of the best features of social networks, encouraging people to upload content while at the same time offering them a wide content selection. Michael Feldstein, e-Literate, September 4, 2010 [Link] [Comment] [Tweet]
Cyberbullying: the research reveals school itself is (a lot) more problematic than the open web


This is something I could have told you from personal experience, but it seems we always have to let the pendulum swing wildly the other way before we learn. "Research shows that digital risks are far outweighed, in fact, by challenges more close to home and school." Ewan McIntosh, edu.blogs.com, September 4, 2010 [Link] [Comment] [Tweet]
Content Strategy Roles and You
I just love this infographic by Richard Ingram: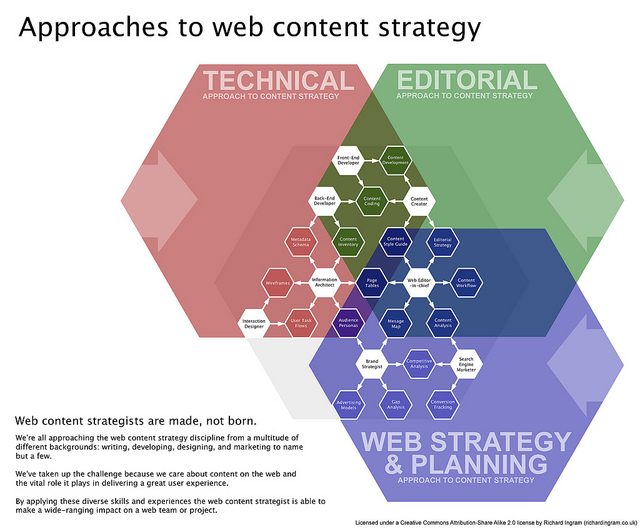 Not only is it an articulate representation of web content strategy, it clearly delineates the roles involved, places them into a matrix or network, and assembles the result into a thing of beauty. And notice the mesh-like depiction of structure - nobody is in control, people have responsibilities, and the dominant form of organization is flow. Brilliant!
Michael Fienen, .eduGuru, September 4, 2010 [Link] [Comment] [Tweet]
NASA Lauches Photo Archive on Flickr


NASA has "rolled a big archive of historical images into Flickr Commons, giving users access to more than a half century of NASA's photographic history." Words cannot express how cool this is. Dan Colman, Open Culture, September 4, 2010 [Link] [Comment] [Tweet]
Twitter Moves to OAuth: The OAuthcalypse Is Nigh
Twitter is moving toward requiring that developers use OAuth. So this may be the point where OAuth 2.0, the simplified version of OAuth, takes off. "In OAuth authentication, the website or app will send you to Twitter where you sign yourself in, then Twitter will tell the website or app "Yeah, they are who they say they are." The website or app only gains the ability to do certain things with your account - post, read, reply, search - while staying locked out from the more sensitive stuff... The biggest advantage of OAuth is you don't have to tell your Twitter password to anyone other than Twitter." Michael Calore, Webmonkey, September 4, 2010 [Link] [Comment] [Tweet]
Commercialization of IP In Canadian Universities: Barely Better Than Break Even
The push to commercialize IP is a big issue here at NRC, of course, and it is at universities as well. The prevailing wisdom is that researchers should be generating licensable property in the form of patents and other proprietary property. Hence there has been an emphasis on business development. But a recent Statistics Canada report shows that this is not working for universities. Michael Geist concludes, "the emphasis on this approach as the optimal method of benefiting from billions in public funding for research has consistently failed." And while not eschewing commercialization entirely, he, like I, would like to see some emphasis placed on alternatives like open access approaches. Michael Geist, Weblog, September 4, 2010 [Link] [Comment] [Tweet]
Doctorow's First Law
"Any time someone puts a lock on something that belongs to you, and won't give you a key, they're not doing it for your benefit." This truism from Cory Doctorow as he finds it utterly impossible to sell an eBook under the same (relatively generous) terms one would sell a paper-based book. "Apple has a mandatory DRM requirement for books offered for sale for the iPad. I know many Apple fans believe that because Steve Jobs penned an open letter decrying DRM that the company must use DRM because they have no choice. But this simply isn't true. Sony has the same deal." Cory Doctorow, Publisher's Weekly, September 3, 2010 [Link] [Comment] [Tweet]
Your Smartphone Will Soon Double as Your Wallet
I'm a bit concerned about the idea of my mobile access provider having control over my wallet. If it can simply delete programs or monitor and filter content at will, then it can impose charges, penalties and fines without even notifying me. Is that what I want? Dan Macsai, Fast Company, September 3, 2010 [Link] [Comment] [Tweet]
Apple iTunes Ping: Hands On
Apple has launched a social network called Ping that has all the elements of a failure. "Not only is there no actual Facebook or Twitter integration, but there isn't any Web presence for Ping. Pretty much every other social network on the planet has a Web site, including dozens that are music-oriented - except Apple." Moreover, as I'm reading via my Facebook contacts, it's blocking indie artists from setting up pages, and the pages that do exist are filling up with spam. It's also not available to a lot of people. Maybe Apple can make this work - Bloomberg thinks it will. But in general, closed proprietary social networks don't work. Michael Muchmore, PC Magazine, September 3, 2010 [Link] [Comment] [Tweet]
This newsletter is sent only at the request of subscribers. If you would like to unsubscribe, Click here.

Know a friend who might enjoy this newsletter? Feel free to forward OLDaily to your colleagues. If you received this issue from a friend and would like a free subscription of your own, you can join our mailing list. Click here to subscribe.