OLDaily
by Stephen Downes
June 21, 2010
aaaarg.org Taken Down
So the battle over online publications begins. There is certainly an irony in a large corporate publisher issuing a takedown order against a website posting a Marxist text. John Connell writes of "the shameful campaign against one of the Web's greatest ever resources, aaaarg.org (along with further discussion later on the same blog)" from the Mitochondrial Vertigo blog. I've been following aaaarg for a while now - it's right up my alley, specializing in radical, socialist and underground texts - the exact sort of texts you can count on the publishing industry to swallow up and make 'unavailable'. Aaarg isn't dead, but I think it's going to go pretty underground now. It's definitely not going to go away. John Connell, Weblog, June 21, 2010 [Link] [Tags: Academic Publications, Books, Web Logs] [Comment] [Tweet]
Online Learning May Slightly Hurt Student Performance
The Chronicle prints another blatantly misleading and misrepresentative depiction of online learning. In this post titles "Online Learning May Slightly Hurt Student Performance" the author concludes, "The study found that students who watched lectures online instead of attending in-person classes performed slightly worse in the course over all." As Matt Crosslin says, "That sound you hear is the collective world of EduGeeks around the world firmly planting their palm to their forehead." Because there is probably not any person, anywhere who thinks that watching lectures online constitutes online learning. Mistaking lecture videos for online learning would be like mistaking the Chronicle for, well, journalism. Sophia Li, Chronicle of Higher Education, June 21, 2010 [Link] [Tags: Traditional and Online Courses, Online Learning, Video] [Comment] [Tweet]
Flickr Releases Request to License; Anyone Can Easily Sell Their Photos
Should I sell my photos? Flickr now offers this option on its photo site. I could sell commercial license through Getty Images. That doesn't change the Creative Commons non-commercial license already on the site. But maybe my photos could generate a little revenue. Well, OK, maybe not. But is there any argument against this? Jason Fitzpatrick, Lifehacker, June 21, 2010 [Link] [Tags: Flickr] [Comment] [Tweet]
New Frameworks Give Mobile-Web Apps a Boost
Web programming (and therefore e-learning development) is hardly about HTML any more. Today's web programming involves the provision of advanced services, and for this developers are using more and more sophisticated web frameworks. These are especially useful as they can deliver content and services to a variety of platforms, and not just web browsers. This article is a good overview and introduction. Scott Gilbertson, Webmonkey, June 21, 2010 [Link] [Tags: Online Learning] [Comment] [Tweet]
NetBase Uses Next Generation Semantic Technology to Understand the Voice of the Consumer
Everybody's talking data-mining these days - but if you're just starting your data-mining project, you're too late. The time to benefit from a fad is before it begins, not after it's mainstream. Are you really going to discover some text-parsing algorithm that hasn't been found by the tens of thousands of PhDs working on this already? Just saying. Now there may be some interesting ways you can use this sort of information. But only as an aid - don't make it the centre of your business plan. It's too late for that. Bill Ives, Portals and KM, June 21, 2010 [Link] [Tags: Project Based Learning] [Comment] [Tweet]
The 15 Minutes that Could Save Five Years
I have always assumed I would never be able to retire, because any funds I could save would be stolen by the time I could use them. In this age of pension plan clawbacks, unfunded pension plan liabilities, and the blatant appropriation of pension plan funds through the dissolution of the company, it appears that my fears were correct (not that I feel any better about that). This Harvard Business Review article announces "The end of retirement as we know it - an emerging unpleasant reality that will (re)shape the quality of life and standard of living for billions." So what will you do? How will you adapt? "Knowledge may be power but it is also perishable. Yesterday's hot mark-up language is tomorrow's Sanskrit; last decade's breakthrough medical procedure is next year's malpractice." My plan has always been to provide some sort of online teaching or mentoring service. But will my skills be up to the task? Michael Schrage, Harvard Business Review, June 21, 2010 [Link] [Tags: Teaching Online, Quality, Mentors and Mentoring] [Comment] [Tweet]
SchoolToolBox
I wish there was more than a picture to this post, but I'm still intrigued by the concept of plug computing. From Wikipedia: "A plug computer is a small form factor network-attached server for use in the home. It is a lower cost and lower power alternative to a PC-based home server. In effect, a plug computer is a network appliance that is fully enclosed in an AC power plug or AC adapter." Tom Hoffman pictures one for SchoolTools, an ubuntu box the size of an iPod. It works, he says. What would be nice is a link explaining how (send me one and I'll pass it along here). Tom Hoffman, Tuttle SVC, June 21, 2010 [Link] [Tags: Schools, Apple Inc., Networks, Wikipedia] [Comment] [Tweet]
7 Tips to Analyze the Formula of Your Life
There's an old song from The Smiths that runs something like this:
In my life
Why do I give valuable time
To people who don't care if I live or die ?
And I think the essence of 'personal learning' (or maybe I should expand the concept, and talk about 'personal living') is captured in this. Our lives are so short, they go by so quickly, and we spend time filling our brains with other people's knowledge, other people's plans, other people's priorities. And there will never be a shortage of inducements to do so, never a shortage of business plans based on that principle. But without getting all EST or scientologist about it, can't we say something along the lines of it being most important to find out what we want to be and to do, and to pursue that aim? That is not the same as selfishness (not even close) - many of us, most of us, will choose to live selflessly. But it is the same as self-determination. Which I think is important, and on which I think our culture and out democracy crucially depends. Would I be as methodical as Vicki Davis is here? Maybe not. But maybe I should be.
Victoria A. Davis
,
Cool Cat Teacher Blog
, June 21, 2010 [
Link
] [Tags: none] [
Comment
] [
Tweet
]
Congratulations on being duped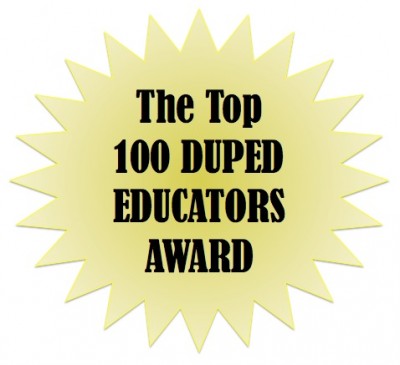 I've received numerous requests for back-links, permission to be placed on lists, guest articles, and more from the people at the college degree websites. I've resisted them all, which is mostly (I would think) why you won't see this blog on their "top 50" or "top 100" education blogs list. Either that, or my standing has slipped considerably since the halcyon days when I was number one by virtue of being the only one out there. Anyhow, as David Truss points out, bloggers should be aware that their status is being used to improve the Google standing of not-so-free college resources sites. David Truss, Pair-a-dimes for Your Thoughts, June 21, 2010 [Link] [Tags: Google, Web Logs] [Comment] [Tweet]
Understanding how Windows 7 improves secure remote access for staff
I haven't installed Windows 7 yet, though I've heard good things (I've given up on Linux for now after one failed update too many). Ray Fleming writes about one significant improvement, VPN access that won't mess up the rest of your internet traffic. VPN is NRC's security of choice (because we work on such top secret stuff) which means that without VPN, nothing works. But I've measured at home and found VPN slows my system by 50 percent. So this improvement by itself would make my life 50 percent easier. If it works. Ray Fleming, The UK Schools Blog, June 21, 2010 [Link] [Tags: Security Issues, Microsoft] [Comment] [Tweet]
This newsletter is sent only at the request of subscribers. If you would like to unsubscribe, Click here.

Know a friend who might enjoy this newsletter? Feel free to forward OLDaily to your colleagues. If you received this issue from a friend and would like a free subscription of your own, you can join our mailing list. Click here to subscribe.