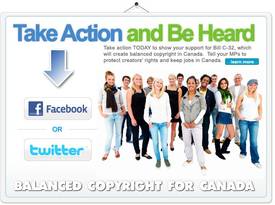 The music industry has launched a fake grassroots campaign in support of a Canadian DMCA. The astroturf campaign,
balancedcopyrightforcanada.ca
, featured
music industry executives
as 'members' and uses a clip-art photo. The campaign also included
paid placement
of headlines on
bourque.com
(didn't know he did that, eh?). The site gives
members
employees "a mix of suggested tweets, blog comments, and newspaper article feedback." See also
BoingBoing
. Michael Geist writes, "This secret astroturf effort is unlikely to fool many people, but it is worth monitoring and serves as a useful reminder that Canadians seeking fair copyright in Canada will need to ensure that their voices are heard and not drowned out by this organized, shadowy campaign."
Views: 0 today, 232 total (since January 1, 2017).<!box vote><!box hits><!box addthis>[
Direct Link
]

Stephen Downes
---
SUBSCRIBE TO OLDAILY
DONATE TO DOWNES.CA
---
Subscribe
Web - Today's OLDaily
Web - This Week's OLWeekly
OLDaily Email - Subscribe
OLWeekly Email - Subscribe
RSS - Individual Posts
RSS - Combined version
JSON - OLDaily
Viewer
---
Professional
National Research Council Canada

Publications
Presentations
All My Articles
---
Social Network
Stephen's Web and OLDaily
Half an Hour Blog
Google Plus Page
Twitter Feed
Flickr Photos
Huffington Post Blog
Slideshare
Facebook
Blip TV
---
Contact
Email:
stephen@downes.ca
Email:
Stephen.Downes@nrc-cnrc.gc.ca
Skype: Downes
My eBooks