OLDaily
by Stephen Downes
July 30, 2010 4:44 p.m.
Representation and Computation
If you want some heady reading for the weekend, this post on cognition and representation is the ticket. It offers a good development of the physical symbol system hypothesis and "the attempt to identify the code, or the codes, in which knowledge is supposedly represented." In particular, "What all of them appeared to have in common is the idea that mental representations are coded symbolically and are structured and computable." This is a view with which I disagree. To the extent that I am willing to countenance representations at all (and I'm sceptical here) I am more inclined to Searle's line of reasoning, "the most radical criticism of the classical view is the claim that the mind/brain is indeed a representational organ, but that the nature of representations is not that of a formal code." It's not a long paper, but it will keep you working for a while. Maurizio Tirassa and Marianna Vallana, Cogprints, July 30, 2010 4:26 p.m. [Link] [Comment] [Tweet]
The grammar of school, psychological dissonance and all professors are rather ludditical
David T. Jones makes the good argument that the very people calling academics Luddites are themselves Luddites. He argues that they employ an old-style top-down methodology that takes no account of the context of application. "Rather than tell academics what to do, you need to create contextualised experiences for academics that enable appropriation of new models of teaching and learning. What most senior managers at universities and many of the commentators don't see, is that the environment at most universities is preventing academics from having these experiences and then preventing them from appropriating the new models of teaching." David T. Jones, The Weblog of (a) David Jones, July 30, 2010 4:19 p.m. [Link] [Comment] [Tweet]
University Website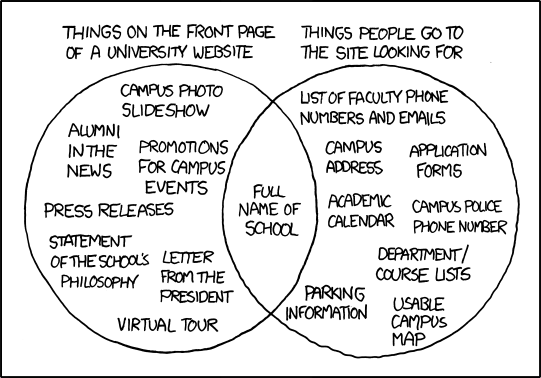 Randall Munroe, XKCD, July 30, 2010 4:13 p.m. [Link] [Comment] [Tweet]
A Guide to No-SQL
If alternative data storage systems geeks you out, you'll enjoy this discussion of non-SQL databases. "Brian Aker lists the features found in No-SQL, as well as the method of organizing and creating data within it. He also describes the general use of schemas and correlational systems in everyday language. His critical analysis of SQL as a whole encompasses several faults, too, including limitations on efficiency, organization, and the encoding language; it quite possibly has an element of satire to it. In this lecture, there is also a glimpse into data collection as a whole." Brian Aker, IT Conversations, July 30, 2010 4:11 p.m. [Link] [Comment] [Tweet]
Metaweb, the web of entities bringing us closer to Web3.0
Nice video explanation of Metaweb. "If you are interested, you can join the freebase community that is part of Metaweb. Through Freebase users can add content to the open database, creating entities. Although I signed up as a member, the registering process had a glitch in Firefox at first, I could access it through Internet Explorer. When I tried a bit later, Firefox was working ok as well for accessing Freebase.
" Inge de Waard, Ignatia, July 30, 2010 4:09 p.m. [Link] [Comment] [Tweet]
This newsletter is sent only at the request of subscribers. If you would like to unsubscribe, Click here.

Know a friend who might enjoy this newsletter? Feel free to forward OLDaily to your colleagues. If you received this issue from a friend and would like a free subscription of your own, you can join our mailing list. Click here to subscribe.